From Our Students: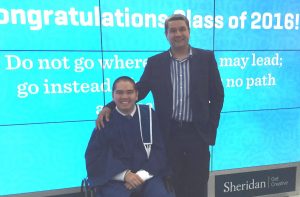 "Winning the Tamara  Gordon Foundation Award for two consecutive years was my greatest accomplishment prior to completing my program at Sheridan College. Receiving the scholarships motivated me to stay determined during the most difficult times of my studies because I didn't want their choice to award me to go to waste. Meeting Tamara and hearing about all of her accomplishments inspired me to also strive to use my life to achieve great things, so I owe her and the foundation some credit for my success at school. Thank you Tamara and the Tamara Gordon Foundation for being such a positive influence on my life."
—- Dean Wardak, who recently graduated from Sheridan College with high honors. He also received the Heather Adcock Memorial Award for his hard work and determination.
---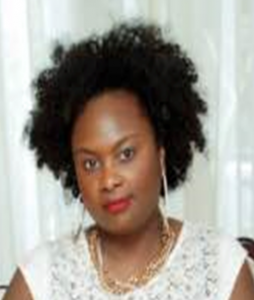 "I am not only honoured but appreciative to have received this award. It is sad but sometimes the world sees a disability as a hindrance, just because one has a disability.  We should shoot for the stars, having a disability is not a  hindrance.  We must not forget that in the word disability is ability, and I have the ability to make change.   Tammy is an inspiration to us all, not only for who she but for all the good she has done within the community.  This award has helped me tremendously allowing me to pursue my goals of becoming  a primary teacher.  As Tammy has had a huge impact on my life and others, I too will make a difference in my students lives and community."
—- Tracy Bell, scholarship recipient.
---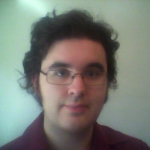 I want to thank you  for the very generous scholarship and the support that you have given towards the completion of my degree and my academic goals. Please continue doing your amazing work.
— Andrew Molas, scholarship recipient.
---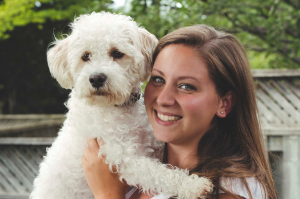 I certainly intend to give back to the foundation and would love to stay in touch about any opportunities to pitch in or help out – I believe that the work you do is phenomenal and I am happy to contribute in whatever way I can!
— Rebecca Wallace, scholarship recipient
---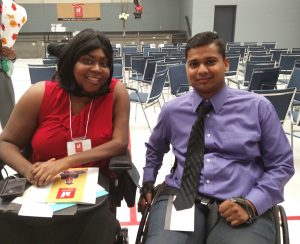 My first semester went really well. I really like to school and the people there and have made some great new friends as well. Although my classes were tough, I still managed to do well. I start second semester on Monday and I'm looking forward to it! Thank you again for making this possible for me. Also I'd like to thank you and the Baxter family for the Robert Baxter Award. Without the help of your foundation, donations and the special award I'd be really struggling financially which would have caused me stress during the school year. You've all definitely made a big difference in my life so thank you again! I look forward to seeing you again in the next reception.
— Shanjay Kailayanathan, scholarship recipient
---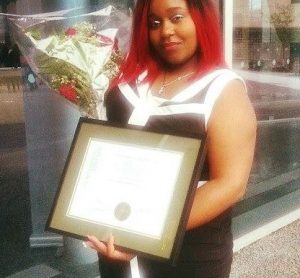 I graduated from the Recreation and Leisure services program at Centennial College in June 2015. I received my 1st scholarship from the foundation when I had just started my 2nd year in September 2014. I also reapplied for the scholarship before starting the 1st year of my second program, The Child and Youth Care Professional program, late 2015 .
Having to go to school and support myself financially and helping to support family was very hard. I thought about how much pressure I'd be putting on myself under having to go to school and work at the same time while grieving the passing of my mother earlier that year. Having a disability and finding non-risky employment that was part-time was quite frustrating because my options were already limited. When I received the scholarship, it was a great help to the point where I was able to focus on my studies and not have to worry about financially supporting myself so much.
I am currently working at the Provincial Advocacy Office for Children and Youth with Irwin Elman as a Youth Amplifier. I am working on a project called "We Have Something To Say!" That voices the special needs of children and youth with disabilities as well as those who work closely with them. It's an amazing experience and I am right where I want to be in terms of a career setting.
A big thank you to Tamara Gordon and the rest of her wonderful team for their hard work, dedication and commitment to assisting many students like myself with a physical disability in their studies not just financially but it also is a confidence boost in completing our studies. It was an honour to have been given the opportunity to receive a scholarship from the foundation 2 years in a row. Thank you!
— Wynnikka Matthews, scholarship recipient
---
I have finished my MA at the University of Guelph and will graduate in October 2017. I am looking at U of T for furthering my studies at the doctoral level. Your scholarship was a great financial relied when most needed. You have Inspired me that despite the physical disability we can pursue our goals and reach them
— Amani Hitimana
---
Written By Lucca Tacoma
A TRUE HERO
Have you ever wondered what life would be like if you couldn't walk and had to use a wheelchair for the rest of your life?  Do you think it would make you feel like giving up?  If your answer is "yes" then I want to change how you feel by telling you about a hero.
Tamara Gordon (Tammy) is a young woman who at the age of 16 became paralyzed.  She was on her high school skiing trip.  She fell while skiing and now has lost the ability to use her legs and her left dominant arm. For most people, that would make us very sad and make us want to give up.  But you haven't met Tammy Gordon.  Tammy is a young woman who never gave up on her dreams. Being paralyzed was just a hurdle she had to get over, like a speed bump in the road.  It wasn't a dead end for Tammy.  Tammy's goal is to help other kids achieve their goals, no matter what stands in their way.
The way my family met Tammy was that she was a motivational speaker.  She travels to schools and classes and teaches kids to never give up on their dreams.  Bad things can happen but you must always look on the bright side of things. Sometimes you can get upset but you have to find the positive and good in every situation.  Since meeting Tammy, I have volunteered every year at Christmas time.  Tammy organizes a dinner for people in the building where she use to live, these people include seniors, many with physical disabilities and serves them a nice Christmas dinner.  
Tammy has started her own Charitable Foundation in her name called The Tamara Gordon Foundation in December 2013. This foundation raises money for people with physical disabilities to help them go off to Universities/Colleges in Ontario.  She feels that many people with physical disabilities feel they can't get a job after university so why bother going?  The Tamara Gordon Foundation that Tammy started gives these people hope that with education, you can go on to get a job after school, even with a physical disability. Tammy wants people with disabilities to feel accomplished and just like everyone else.  She doesn't want people to see their physical disability but to be accepted for the people they are.  For their education, for their inspiration and the value they bring to the world.
The foundation raises money to give to people who want to carry out their dreams of going to universities/colleges to get a degree.  After her skiing accident in 2002, Tammy graduated from her high school with a 91% average and then graduated from York University with B.A.S., Spec. Hon. Degree, with honours, on the Dean's Honour Roll List and the distinction Cum Laude. She also worked very hard and received over 60 scholarships.  She knows how much these scholarships can help.  Tammy has been working at TD Canada Trust Bank for over ten years.
My mom is on the Board of Directors for the Foundation.  Every year my mom, my sister, my grandma and I go to the awards ceremony.  This is where they give out the scholarships to the students who have been chosen to receive the money for their school.  The former Lt. Governor of Ontario, Hon. David Onley, The Minister for Women's Issues and Accessibility, Hon. Tracy MacCharles MPP and the Mayor of Markham, Hon Frank Scarpitti were also at the 2016 Reception Ceremony.  Each person chosen goes up and tells their story and is awarded their scholarship.  Some of the stories are very inspiring. One girl actually taught herself to walk again.
Tammy inspires people to do their best every day.  It is how she lives her life.  It is her lifelong goal to continue to help and inspire people with physical disabilities to be the best they can be and follow their dreams.
Tammy is the definition of A TRUE HERO.