Board of Directors
President: Alfred M. Kwinter
Alf Kwinter was born in Vienna, Austria. He grew up in downtown Toronto and obtained his B.A. from the University of Toronto in 1967 and his law degree from the University of Toronto in 1970. In 1974, Alf and his classmate, Morris Singer, founded the firm of Singer Kwinter. For the first 10 years of his career, Alf practiced mostly criminal law before switching to the civil side representing plaintiffs in personal injury, malpractice and insurance claims.
Alf has appeared as counsel at all court levels including The Supreme Court of Canada, where he appeared on behalf of the successful plaintiff in the landmark decision of Oldfield vs. Transamerica Insurance Company. In a trial involving a fire loss claim, the jury awarded Alf's client the amount of the claim plus $2,500,000 for punitive damages-a new Canadian record. He has appeared as counsel on a number of other ground breaking cases including Kamin vs. Kawartha Dairy which changed the law on trip and fall and Degennaro vs. Oakville- Trafalgar Memorial Hospital -the largest award in Canada for chronic pain. Alf is the only lawyer in Canada who has obtained a punitive damage award against an insurance company on three separate occasions.
Alf is a member of the Ontario Trial Lawyers Association (OTLA), the Canadian Bar Association, the American Association for Justice and the American Bar Association. He has taught trial practice in the Bar Admission Course and has been invited to speak and chair numerous programs sponsored by The Advocates' Society (TAS), Osgoode Continuing Legal Education, OTLA, CBA, OBA and the LSUC. Alf is currently an adjunct professor at Osgoode Hall Law School.
Alf has been certified as a specialist in Civil Litigation by The Law Society of Upper Canada and is a past director of the Advocates Society. In addition, Alf has also been consistently ranked as a "most frequently recommended" leading legal practitioner in Canada by his peers in the Canadian Legal Lexpert® Directory and Best Lawyers in Canada®.
In May 2004, Alf was awarded the H. Bruce Hillyer Award by OTLA in recognition of his outstanding contribution to the cause of civil justice and for exemplifying the spirit of OTLA in fearlessly advancing the cause of individual rights by the effective use of trial advocacy.
Alf has delivered the keynote address at the Atlantic Trial Lawyers Association in St. John's, Newfoundland. In 2008 he was again honoured by OTLA at its annual "Celebration of the Personal Injury Bar". On June 6th, 2012 at TAS End of Term Dinner, Alf was presented with the Society's Excellence in Teaching Award.
Alf is the recipient of the 2015 OBA Award for Excellence in Insurance Law. This award celebrates his outstanding achievements, distinguished record of service and highest standards of integrity and civility.
---
Ms. Marcia Gordon
Marcia is a Christian and well-rounded woman who gave her life to the Lord when she was eleven years old. Her mom taught her at a tender age that one of the best things one could ever do in life is to give and care for others. Marcia said, "There is no greater investment we can make than to invest in someone's life". She believes that as we serve others that we too are enriched. As we give to others, our lives are made better. Marcia lives her life doing just that and it pays off as she has been recognized many times for her commitment. Marcia was the recipient of many Awards, including the 2009 Shining Star Award (Honorary) recognition at York University, Mother of Distinction Award and also The Queen Elizabeth II Diamond Jubilee Award in 2012. Marcia is the Executive Director of the Tamara Gordon Foundation, to which she has expended much time and energy.
Marcia has volunteered in many facilities such as churches, schools, nursing homes, universities, not for profit housing organizations, and is presently a volunteer coordinator at the building in which she currently resides. The tenants, Board members and staff think very highly of her and the work she does. She reaches out to youth in the community and encourages them to pursue their dreams. Together with her daughter, they conduct back-to school events distributing supplies to students and inviting community leaders and media personnel to encourage them.
Her daughter was injured at the age of 16 due to a skiing accident, became paralyzed and is unable to do many things for herself. Tamara said "My mom did not just extend herself to the family but to others as well". Despite having to deal with a child with a disability, as a single mother she often seeks out the elderly in her building and surrounding areas and provide them with meals, gifts of fruits and other items on special days, including Christmas and Thanksgiving Day dinners so they would not feel forgotten. Not only did my mother place great emphasis on our physical development at home, but she taught and emphasized spiritual values as well. Church was a part of our general routine and it was that spiritual experience that helped us through the most difficult days of coping with my disability. These are just microscopic examples of the way she goes above and beyond to ensure that her "family" and those around her are cared for emotionally, physically and spiritually".
Considering the battles Marcia has fought, awarding multiple degrees would not been enough to inspire others who are physically challenged. Her disabilities include Reflex Systematic Dystrophy Syndrome (RSDS), fibromyalgia, hernia, heart attack, stroke, diabetes as well as a cancer survivor.
Do you know the difference between a river and a swamp? A river takes in water and gives out water so others can benefit. A swamp takes in water but never releases it. We are not supposed to be swamps in life, we must be rivers that give our water so others can live and thrive. When we leave this spot that we now occupy on earth, we will be remembered by others not for what we have done for ourselves, but for what we did for others, not for what we took from others but what we gave to others, not for how rich we made ourselves but how we enriched the lives of others.
"One of Marcia's motto is, "I am one. You are one. But together we are many." And when we pool our individual resources, love and support, we can create a sea of change in the ocean of this life; the kind of change that makes the world a better place.
---
Dr. Roma A. Hewitt
From early childhood, Roma has had a deep love for the Lord; this has driven her to continuously pursue a greater knowledge of Him and of His divine purpose for her life. This journey has not been without its oppositions, but through a passion to fulfill all of God's will for her life, she has triumphed over them all.
Her developed knowledge of, and intimacy with God, allows her to provide Biblical counseling to individuals and families in a variety of settings. Her goal is to assist them in bringing all areas of their lives into accurate alignment with the principles of the Kingdom of God. She believes strongly in the pursuit of purpose and maximizing one's potential in order to fulfill God's destiny for one's life.
As an inspirational and motivational speaker, she is a sought after speaker at church services, seminars, women's meetings and other church events, both in and outside of Canada. She was also one of the keynote speakers at a Pastors' Leadership Conference in Manila, Philippines and regularly ministers in Haiti at women and pastors conferences.
Roma's ministry also extends into the business world. As a professionally qualified Accountant, Roma owns and operates Reliable Accounting & Tax Services, where ministering to her clientele of small and medium-sized businessmen is an integral part of the complete success package she offers them. Her clientele also includes an increasing number of church ministries. Roma assists church leaders in the effective development of the operational aspects of their ministries.
She is the founder of Arise Shine Ministries, and the head of Congress Corporate Canada, a Kingdom business initiative of Congress- WBN. She is on the leadership team of the Elijah Centre Embassy Toronto, Canada where she worships.
Roma serves on the board of several organizations including Signet Christian School, Join the Family Christian Ministries and Radiant Life Ministries.
Roma has a Doctorate in Divinity & Teaching and a Master's degree in Theological Studies. She is a Certified Pastoral Counselor and the current Dean of Business at Canada Christian College & School of Theological Studies.
An inspiring woman both spiritually and educationally, Roma serves as a great role model to her three children, four grandchildren and all those connected with her.
---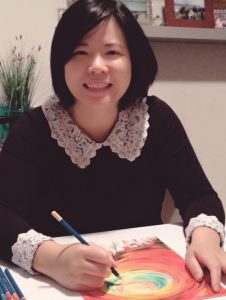 Ms. Nancy Xia
Nancy Xia sustained a spinal cord injury when she was 18 years old. At the time she had just graduated from high school. She took a year off for rehabilitation and went back to school as a first year student at University of Toronto. Being one of the few students living with a physical disability, school was not always easy. Unlike most people who are able to have a part-time job to support their tuition and the cost of daily living, students with disabilities are less likely to work at the same time while meeting the demands of life and school. Fortunately, with the help from many scholarship foundations specifically designated for students with disabilities, Nancy received a significant amount of financial support. Besides their monetary value, they also served as a motivation and encouragement to work harder in school. It took Nancy 7 years to finish her 4-year degree. She graduated with a Bachelor Science degree major in Human Psychology. Five months after graduation, she was hired by Spinal Cord Injury Ontario and has been working ever since. Nancy decided to take part in the Tamara Gordon Foundation because she believes in its cause and mission. She is forever grateful for the financial support that she received during the seven years as an university student. She hopes that she can return the blessing by helping others achieve their educational goal. Nancy has recently published her memoir: Leap — Into the Mind of a Suicide. It's available on Amazon.

---
Ms. Marva Amour
Through the years Marva has taught Sunday School and Adult Bible Study, Brownies, Girl Guides and ESL classes, she has also facilitated workshops at womens' conferences.  Since retiring in 2012, Marva has continued her involvement in various youth initiatives. She is the Secretary on the Board of Directors of The HopeWorks Connection/ Toronto Concert Choir (TC3), a Not-For-Profit organization that seeks to empower youth through the performing arts and literacy; she also serves as a Tutor in their Literacy in Motion program. Serving on the Tamara Gordon Foundation provides an opportunity to assist deserving youth with physical disabilities, whose dream is to pursue post secondary aspirations of becoming accomplished and well-educated citizens.  Marva enjoys journeying with youth and adults in their quest for wholeness and purpose.
---
Ms. Kyla Baxter
Kyla Baxter has dedicated her life to supporting the needs of individuals who have suffered varying degrees of personal injuries. Baxter Structures is Canada's first family-owned and operated structured settlement firm, founded in 1978 by Kyla's father, the late Bob Baxter. As President, Kyla continues to engrain her father's dedication and unfailing commitment to assisting those in need into every aspect of her business. Kyla's warm and supportive approach to helping individuals manage their settlement funds in ways that will support their needs well into the future, is recognized industry wide and is second to none.
After earning her Bachelor of Law degree from Carleton University and gaining real-life experience of the impact a life-altering injury or loss can have on an individual and his/her family by working in a boutique litigation firm, Kyla joined the family firm to follow her passion to support people in their time of need. As an active supporter of BIST, OBIA and Spinal Cord Injury Ontario, Kyla continues to support those living with various permanent injuries.
Kyla's eighteen plus years in the structured settlement industry includes work with many of the top Canadian casualty insurers, national law firms, and a diverse range of injured individuals. Kyla holds her Life, Health and Accident Insurance licenses under FSCO and is a member of the National Structured Settlements Trade Association. Kyla also holds the Certified Structured Settlement Consultant (CSSC) certification. The CSSC certification designates individuals who have demonstrated exemplary competency in all areas of structured settlement consulting. The CSSC is administered by NSSTA and developed in cooperation with the University of Notre Dame Executive Education Department.
Dedication to her family is paramount for Kyla, which is exemplified by her commitment to leading the family firm and continuing the strong tradition of outstanding client service established by her father. Kyla's capacity for compassion, support, and understanding for her clients' needs is the foundation of Baxter Structures, and is what drew her to become involved in the Tamara Gordon Foundation.
---
Osmond A. Lyons
Osmond immigrated to Toronto, Canada in 1970 and studied Civil Engineering at Ryerson Polytechnical Institute and Mechanical Engineering at Seneca College. He worked in the Toronto Transit Commission's Engineering Department as a Civil and Mechanical Engineering Draughtsman and Designer for twenty-two years, and as a Senior Construction Inspector in the Construction Department for sixteen years. During his years at the TTC, Osmond was involved in the design and construction of the Spadina Subway, the east and west extensions to the Danforth Subway, the Harbour Front Light Rail Transit and the Scarborough Rapid Transit. Before retiring from the TTC in January 2013, Osmond was a Senior Construction Inspector and Community Construction Liaison on the construction of the billion-dollar Sheppard Subway and the one hundred million dollar Mount Dennis Bus Garage at Black Creek Road and Eglinton Avenue West.
Osmond enjoys gardening, watching soccer and American football. (NFL) He is a volunteer with the Tamara Gordon Foundation and is one of the Foundation's directors.
---
Rev. Patricia Wynter
Rev. Patricia Wynter is an ordained Minister with the Church of God. Commissioned by God to preach the word she has ministered the WORD OF GOD in various denominations:
As keynote speaker at Retreats; Conventions; Seminars and Prayer Conferences.
As a teacher in Sunday School, Bible Study, and New Concert Class
In children, youth, women's, and mission ministries.
Developed various Bible Studies for Women's, Youth, Children's, Evangelism, and Adult
Developed a daily devotional that is distributed via email to more than 100+ participants
Patricia spearheaded several community initiatives to bring about change and to bridge the gap between the Church and the community. Initiatives such as: the Youth Education Program (YEP) to address youth violence in the Malvern and the Birchmount community and a yearly Health Awareness Day to educate and promote healthy lifestyle.
Her volunteer activities includes: Financial Director for the Milliken Housing Coop; a trained palliative volunteer with the Victorian Order of Nurses, Toronto branch; and several Church related offices. Her volunteering and Mission work gave her a close look at the foundational breakdown of families; and the desperate needs of individuals who experience adverse circumstances in life. She noticed that one of the recurring themes is the lack of proper financial planning, which results in parents spending little time in the homes due to multiple jobs, which create at risk neighbourhoods where lack is the norm. These experiences proved instrumental in creating the desire to be a voice of change for those who are hurting, and those who desire a second chance.
In 2010 Patricia founded "The Centre of Hope Ministries" a place where broken lives are restored through Jesus Christ. The ministry operates in the downtown community of Regent and Moss Park. Some of the activities that The Centre are engaged in are: Every Sunday at the corner of Sherbourne and Queen more than 200 people are served a tasty, well presented meal with the ambience of a five star restaurant where people are treated as welcomed guests; Individuals are helped to move from the Shelters into their own space with the provision of first and last rent; furniture and all the amenities that enables individuals to start over with support and caring; The Centre also acts as a triage centre that links individuals with already established available government and other agency programs that are able to help present and future needs e.g. to access detox centre; volunteer programs to gain work experience; weight loss program; to name a few. These actions relieve the overburden health care, and welfare system therefore adding value to life, neighbourhood, municipality and country.
The Centre of Hope models and teaches authentic Christianity with the hope of building an overcoming Church out of broken lives through the power of Jesus Christ. This endeavour is moving people from biblically informed to life transformed. It is the place where truth meets life.
Patricia's compassionate and confident walk is grounded in Matthew 25:40 "And the King shall answer and say unto them, Verily I say unto you, Inasmuch as ye have done it unto one of the least of these my brethren, ye have done it unto me." And Philippians 1:6, "…being confident of this, that He who began a good work in you will carry it on to completion until the day of Christ Jesus." So, she looks for small victories, celebrating them and giving praises and thanks to God. Confident that, as she partner together with the Holy Spirit and, by faith, keep doing what the Bible teaches to do, years down the road, the community will be transformed according to grace and riches of Almighty God!